Stammering is not a Disease
Stammering is not a disease but a habit of speaking in a wrong way which is not by birth. It is due to shortened breath because of some reason during childhood. The breath is shortened by the following reasons; (1) Physical weakness due to any kind of disease, (2) Any kind of fear, (3) Imitating other stammerers, (4) Accident or mis-happening.
The breath is shortened due to above mentioned reasons and you start speaking with pauses. You do not want to speak with pauses, but not knowing the reality, and you try to speak more and more in shortened breath. Speaking in shortened breath increases your speed of speech and start speaking with pauses. Speaking with pauses is 'Stammering'.
What is the Psychology in stammering? Anything happens always casts its impression in your mind. Speaking with pauses since childhood casts impression in your mind that you are a stammerer. This is psychology.
Some children after growing up give more attention on this problem. The words which are frequently used in the speech, you feel more uncomfortable due to high speed and stammer more. Ultimately you select these words as problematic words.
A stammerer always tries to speak fluently everywhere. Now you have two options either struggle and stammer or substitute the problematic words. For example speak out "pa-pa –pani" (water) or substitute with "Jal". If you struggle and stammer or substitute these words, your psychology will increase.
Treatment of stammering is not available in most of the places in India. Only the specialist who remains affected due to stammering in his life, can understand the problem and research on its treatment. I, Bhoop Singh Yadav suffered from stammering from the age of 4 years to 24 years. I got myself cured and after doing research on the subject, running the Centre since 1979. Now i tell you what the truth is?

Your Questions our Answers
1. How do we make assessment of psychology?
If you have selected problematic words your psychology is more than 30% and if not selected, less than 30%. Those whose psychology is less than 50%, do not stammer while singing and if they stammer on problematic words during singing, psychology is more than 50%. This is how you assess your psychology.
2. Why do we stammer on the first letter of the word?
Due to your high speed of the speech, you try to speak out 4 to 6 words in a single go which we term as a four or a six. Your tongue can not go for four or six letters at a time so you stammer on the first letter of the word.
3. Why we do not stammer while singing?
Stammering is due to shortened breath, high speed and psychology. While starting singing, you take full breath, speed is controlled, and attention is towards the tune of the song. That is why you do not stammer while singing.
4. Why a stammerer is full of anger?
Because a stammerer despite of having all capabilities cannot perform fully which give him feelings of frustration, anger and discontentment.
5. Why do we stammer more in front of strangers?
Whenever we try to hide this weakness and speak correctly, more stammering occurs. Because in this situation your mind becomes more attentive towards this problem and due to fear you become uncomfortable resulting increase in the speed of the speech. That is why you stammer more in front of strangers, higher officers, ticket windows, telephone, mobiles etc.
6. Whether stammering is a hereditary disease?
Stammering is not due to hereditary. However if some of your family member is a stammerer and becomes angry frequently, a child by imitating him and due to his fear become habitual of stammering. Therefore, some people consider it as hereditary.

Treatment of Stammering
Treatment of Stammering involves breath prolongation, slowing down speed of speech and reducing psychology from mind. At the centre you will learn about the ways of prolongation of breath and slowing down speed of speech by exercises, regular exercise are done at the centre, correct method of speaking without stammering explained. Emphasis will be given on speaking without stammering regularly as speaking correctly and regularly will reduce psychology from mind and fear of difficult words.
Till date your psychology had been increasing due to continuous stammering, now at the centre psychology will start reducing due to regular speaking without stammering and you will get a way to have 100% success.
At the centre students practice regularly from 8:00 AM to 6:00 PM i.e. prolongation of breath, slowing down the speed of speech, storytelling, deliver the lecture in front of other students, performing activity of group discussion among students and talking to visitors, etc.
We deliver a lecture every day where the students sitting in a group are explained in a practical way that what is stammering and its remedies. This lecture is key to success. Because a stammerer does not know about the reasons of his stammering. This lecture will enables you to assess yourself about your shortcomings and their remedies. As such you become confident.
The treatment can only be taken at the centre and not at home. Because without guidance of mentor and suitable atmosphere it is not possible. There are always 15-20 persons present in the Centre which gives better atmosphere for practicing. This treatment can be taken at any age. Person who is more mature and sincere will recover early. Mostly persons of the age group of 20-30 years take treatment in this Centre.

Period of Treatment
If your child is of the age of 5 to 8-9 and stammers, you should come to the centre with the child for 2 days only. You will be explained about the treatment and the practice methods so is to able to treat your child at home.
If your child is of the age of 10 to 15 years, then you should come to centre for 10 days only, In the Centre child will practice for 10 days in your presence and you will be able to understand the treatment completely (speaking correctly without stammering). Your child will get cured up to 80% to 90% during the period of 10 days and the rest of the practice will be done by the child at home. Speech Therapy says that the patient must be the Specialist of the Subject. If the patient is child then his father and mother should be the specialist of the subject.
If you are more than 16 and can live alone, then you may come alone. You can meet the students first and get satisfaction.
If you have shortage of time, then you may come here for at least 10 days, to become the specialist of the subject. Sincere and intelligent students, after learning the treatment procedure can continue practice at home and cure themselves fully.
If you have enough time, you should come for the complete course of 30 days. Psychology may be lesser, but your habit of stammering is 10 to 15 years old and your breath and speed are unbalanced. We suggest you that for 100% success, full course of 30 days should be taken. Hardworking and sincere students become satisfied in 20 days. You can take contact numbers of those persons of your state who after curing themselves 100% are leading their lives happily.

India Speech Therapy Centre, Amer Jaipur has been running successfully since 1979. Thousands of persons have been cured successfully.

Fees charges for Stammering
| | |
| --- | --- |
| 20 or 30 days full course | Rs. 15,000=00 |
| 10 days course | Rs. 14,000=00 |
| 5 days course | Rs. 12,500=00 |
| 2 days course | Rs. 5,000=00 |
Hostel facility and food charges will be Rs. 300/- per day extra. If you do not consider it appropriate to carry cash, a demand draft in favour of "India Speech Therapy Centre" payable at any nationalized bank in Jaipur, may be brought.
Note:-
The Cheques will not be accepted
We do not have any branch anywhere in India. Some persons after taking treatment from this centre, due to their unemployment, open speech therapy centre in different parts of the country by copying contents of our website and naming it similar to our centre. Ultimately these centers close down in some time due to their failure.

Rules of the Centre
| | |
| --- | --- |
| 1. | Deaf & Dumb and mentally retarded students are not admitted in the Centre. |
| 2. | Children of lesser ages can get 100% success with the help of their parents only. |
| 3. | There are no vacation in the Centre during the year. You can come anytime at your convenience. However, we suggest you to book your seat by informing us telephonically. |
| 4. | Time table of Centre- After morning breakfast breath prolongation exercise from 8-10 AM. Practice of speech in slow speed from 10 AM-12 noon. Lunch and rest from 12 noon- 2 PM. Tea at 2 PM, lecture and question answers 2-4 PM. Lecture 4-6 PM by Shri Bhoop Singh Yadav in which all students are taught that how the breath is prolonged, speed of the speech is reduced and psychology is removed from your mind. At 6 PM, students go to market in groups of two (one senior and one Junior) and talk to strangers. By 8 PM the students return from the market, take their meal and go to bed. |
| 5. | Fee and hostel & food charges will be charged according to stay in the Centre. In case you deposit excess money that will be refunded. |
| 6. | Parents accompanying their children will also be given hostel & food facilities. |
| 7. | Treatment of Stammering and misarticulation both will be done by practicing. Treatment can be done by practicing not by medicines. |
| 8. | You can take treatment in parts also. |
| 9. | For children of small ages there is no time for food. It will be given as and when required. |
| 10. | Consumption of liquor in the Centre and hostel or outside during the stay is strictly prohibited. |
| Note: | Students, at the time of admission in the centre, must troduce a vaild document in support of their idenntity. |

Hostel facilities
Amer is the well known tourist place of Jaipur which is located at a distance of about 10-12 KM from the Railway station and Bus stand of Jaipur on Delhi road. Local buses and auto rickshaw to reach this place are available.
Our private building 'Yadav Nivas' is situated in Mohalla - 'Mehandi Ka Bass' on the Main Road in Amer.
Our centre, hostel & our residence are located in this building. All facilities in the hostel like rooms, cots, beddings, geyser, (in the winter season) fans, air Coolers (in the summer season) have been provided.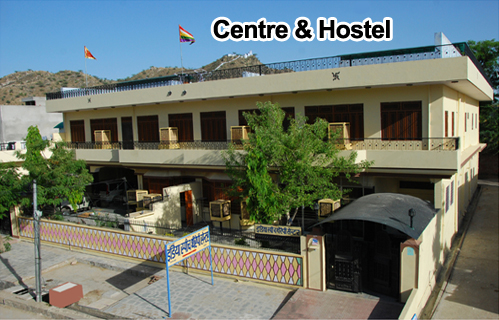 Website - www.indiaspeechtherapyjaipur.org

Bhoop Singh Yadav (Speech Therapist)

Email - info@indiaspeechtherapy.org

Mehandi Ka Bass, Amer,

Mobile No. +91-9414062108, +91-9799180108
Ph.: 0141-2530108

Jaipur, Rajasthan (India)